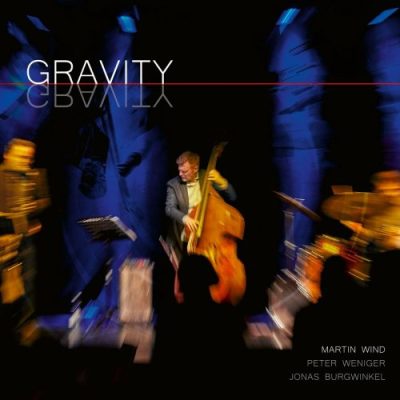 Artist: Martin Wind
Album: Gravity
Genre: Jazz
Label: Laika Records
Year Of Release: 2023
Format: FLAC (tracks)
Tracklist:
01. Still Friends
02. Newborn
03. Inga's Waltz
04. El Cahon
05. Pathetique
06. Another Beer, Please!
07. Good Night, Princess
08. The Uninformed Dwarf
09. Tuyo
10. One and One
11. Someone to Watch over Me
"Gravity" – a term for which the dictionary offers a whole range of possible translations. Each describes the album title of Martin Wind featuring Peter Weniger and Jonas Burgwinkel perfectly on very different levels, explains bassist and bandleader Martin Wind. "Musically, the double bass constitutes the center of any ensemble. It's the foundation, where the threads run together rhythmically and harmonically, much like how the sun holds our planetary system together." At the same time, "Gravity" also defines as an attraction. There are people and places to which we feel drawn. "The North German metropolis of Hamburg has exerted a special pull on me not only as an intercontinental gateway, but as the home of some of my closest friends and the site of some of my earliest musical experiences" explains Wind, who has been living in Teaneck, New Jersey, since the late 1990s.
A very special bond exists between the members of the trio. Wind's musical connection to saxophonist Peter Weniger is characterized in the swinging opener "Still Friends". The two met 35 years ago as founding members of the German National Youth Jazz Orchestra. "Even though we went our separate ways as a result of my move to NYC, playing with Peter has always felt natural to me". Peter Weniger describes the special chemistry between the two of them as follows: "Music is a social event, and it's noticeable when the participants harmonize extremely well with each other on every single note. It is an expression of a process that is based on absolute trust. When you can trust each other blindly, it feels particularly good to me."
Jonas Burgwinkel, who initiated the trio, felt the same way. The drummer found it particularly appealing that there were no guidelines for the session at the Berlin Jazz Institute. "Since the recording took place during the height of the Corona pandemic, we had to largely forego concerts and rehearsals in advance. But that quickly proved to be an advantage. Peter and Martin brought in compositions that were manageable in terms of complexity, but they grooved and swung enormously. This created a freshness and energy that perfectly documented our approach" recalls Burgwinkel, who put a stamp on the recording with his distinctive style, as on "Another Beer, please!" The composition with its catchy percussion groove is dedicated to Martin Wind's friend and "house photographer" Olff Appold, who's been a big fan of funk bands like Earth, Wind & Fire and The Sugarhill Gang. "Newborn" was penned by Peter Weniger and represents his musical philosophy: "to approach a composition with the curiosity and innocence of a baby, without musical clichés, but with melodies that are easy to sing," says the saxophonist. Martin Wind wrote "Inga's Waltz" for the 50th birthday of his longtime friend Inga Appold. "She already had a penchant for dancing when we roamed the clubs and private parties as teenagers together," Wind recalls. "Pathetique" needs no further explanation. In Peter Weniger's arrangement, Beethoven's famous motif is easily recognizable before the trio continues in a Coltrane-esque manner. With irrepressible joy, unparalleled virtuosity, and contagious playfulness they deliver a repertoire of toe tapping swing ("El Cahon"), expressive blues ("Good night, Princess") and soulful ballad ("Someone to watch over me"). Martin Wind, Peter Weniger and Jonas Burgwinkel create a musical gravitational field that is hard to escape!