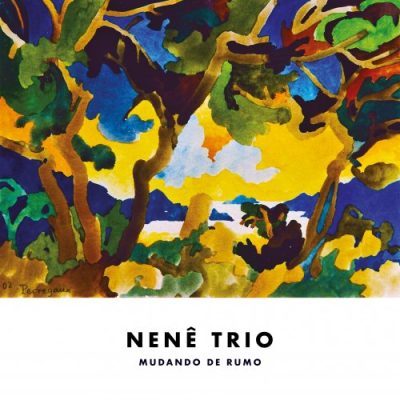 Artist: Nene Trio
Album: Mudando de Rumo
Label: Inmelo Music
Year Of Release: 2022
Format: FLAC (tracks)
Tracklist:
01. Mudando de Rumo
02. Chorinho pro Cristóvão
03. Lindolfo
04. Um abraço no Moisés
05. Solo de Bateria
06. Formatura da Carol
07. Cilene
Personnel:
Nenê – Drums & Percussions
Irio Jr. – Piano
Alberto Luccas – Bass
"Mudando de Rumo" explores a change in my style on how to play the drums, as I used to be more influenced by Jazz. My experience playing for Hermeto Pascoal directed me to a broader view on my native country's music. Not just the rhythmic vocabulary, but also the harmonies and melodies of traditional Brazilian music became the solid base of my composition.
The idea while recording this album was to fragment Brazilian music fundamentals through polyrhythmic resources. My piano player Irio Jr and bassist Alberto Luccas share this approach with me up to this day.
As we have continued to explore these musical avenues, this album obviously reflects the thoughts and emotions from when the recording happened.
It's been said that musicians are the keepers of our history. Acting as Nenê`s musical producer makes me a suspect, but I have no hesitation to say that he is one of the most innovative and creative musicians of our time. A prolific composer who literally writes daring music every single day, and a drummer who defined a unique way to play Brazilian rhythms on the drumset and inspired generations, seeing Nenê playing is an experience which cannot be forgotten.
It's also amazing that through more than twenty years he has been able to find loyal and steady companion in his trio. Alberto Luccas has been his omnipresent bassist since the early 2000`s, and Irio Jr came on board a few years later, both virtuosos in their instruments. Together, they make an impressively tight group, with a rare telepathic connection. I used to not believe in telepathy, but seeing Nenês group live so many times changed my mind.
"Mudando de Rumo" is a tour de force that can hardly be classified. It certainly is Brazilian music, but in a way that you probably never heard before – and it's way more than that. An intense travel that goes from surprising and lively tunes such as the track which entitles the album or "Um Abraço no Moisés" (a homage to the trio's previous pianist) to beautiful and lyrical melodies like "Lindolfo" or "Formatura da Carol", to his already iconic drum solo piece "Solo de Bateria" – an improvised solo which he records in almost all his albums and are masterpieces on their own. It is a pleasure to release this remastered version of 2007`s original recording by one of the greatest composers and drummers of contemporary Brazilian music.