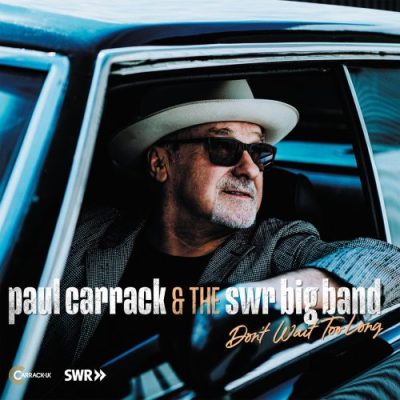 Artist: Paul Carrack & The SWR Big Band
Album: Don't Wait Too Long
Label: Carrack UK
Year Of Release: 2023
Format: FLAC (tracks)
Tracklist:
1. I'll Always Be in Love with You (2:50)
2. Don't Wait Too Long (3:52)
3. Cryin' Won´t Help You (4:30)
4. Don't Let the Sun Catch You Crying (3:40)
5. Ain't Nothing You Can Do (3:54)
6. Question (3:52)
7. The Only Thing Missing Is You (4:48)
8. Got to Get You Off My Mind (3:59)
9. Frim Fram Sauce (3:25)
10. Trust in Me (4:19)
11. Bring It on Home to Me (3:36)
12. Next Time You See Me (3:04)
Celebrating a momentous five decades in the industry, legendary musician and songwriter Paul Carrack, who's 'Golden Voice' features on numerous classic world wide hits such as 'How Long' (ACE') , 'Tempted' (Squeeze), 'The Living Years', 'Over My Shoulder' ( Mike and the Mechanics) teams up with the GRAMMY Award-winning SWR Big Band & Strings on epic new album " Don't Wait Too Long". The covers album celebrates the pioneering golden era in music from the 50s and beyond spanning blues, gospel, country and jazz. The first single "Cryin' Won't Help You" out in Jan 2023 is Paul's tribute to the legendary BB King.
Paul has a deep love of R&B songs from the fifties and beyond. For him, 50s music was filled with intense emotion, it was wildly kinetic and had a profound impact on his career. In Paul's mind, it's where all modern pop music began, the sounds were spectacular and revolutionary. Days when the change from jazz to pop was stretched via pioneers and great singers like Bobby Bland, Ray Charles, Aretha Franklin, and Lloyd Price..These artists always resonated as fantastic performers with stylistic records that had such joy and intensity.
The 50s were not only a time for musical revolution but a social and generational upheaval of vast and unpredictable scope. The power of this music is as vital today as it ever was with the power to change lives forever.
After working with the SWR band on a number of projects, Paul and his producers had the idea to find and record a selection of these time-warped classics, some well-known, others not so much, and the title track , a modern song that harks back to those times called 'Don't Wait Too Long'. The result is an impassioned, compelling album. Honest, epic, touching, the album showcases a great vocalist who is at home with his art and talent.