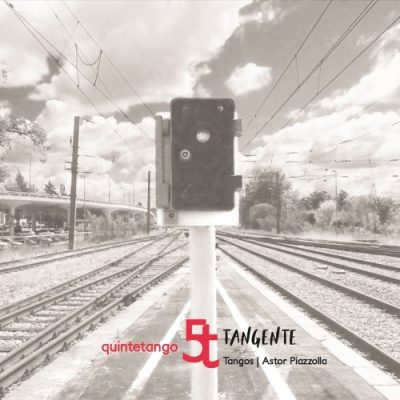 Artist: Quintetango
Album: Tangente
Label: Galileo Music Communication
Year Of Release: 2022
Format: FLAC (tracks)
Tracklist:
1. Concierto para Quinteto (9:35)
2. Milonga del Angel (6:58)
3. Primavera Porteña (5:36)
4. Verano Porteño (6:13)
5. Otoño Porteño (7:12)
6. Invierno Porteño (7:36)
7. Soledad (7:52)
Quintetango is a chamber music quintet dedicated to the interpretation of the musical work of Argentine composer Astor Piazzolla (1921-1992) – the "Nuevo Tango". The quintet was born in 2016 in the continuity of several artistic partnerships between the five musicians and teachers of the Coimbra Conservatory of Music: André Madeira (Classical Guitar), Artur Fernandes (Diatonic Accordion), Catarina Peixinho (Piano), Hugo Brito (Violin) and Miguel Calhaz (Double Bass).
The initial years brought the first concerts and participation in Festivals and the acclaim of the public. In this context, the group advanced to the production of their debut album. The recordings took place, in early 2021, in the Great Auditorium of the Conservatory of Music of Coimbra and were directed by Gonçalo Santos, who also mixed and mastered the album.
The selected works were composed by Piazzolla between 1965 and 1971 – the time of his first Quinteto Tango Nuevo, highlighting the suite "Las Cuatro Estaciones Porteñas". The Quintetango's debut album also includes three works that were re-recorded by Astor Piazzolla and his Quinteto Tango Nuevo in their latest studio albums (1980s) – "Milonga del Angel", "Soledad" and "Concierto para Quinteto ".
The period that elapsed between the beginning of the recordings, at the beginning of 2021, and the edition of the CD, in July 2022, coincided with the centenary of the birth of Astor Piazzolla (March 11, 1921). This is how we started to configure the title for this work: Tangente – something that touches a line or surface at a single point (in this case March 11th); it can also be understood as something that touches; or even, in figurative language, as the only way to get out of a difficulty. The proximity to the expression "Tango" is also interesting, being, in spite of everything, two words with very different etymological roots.
Tangente combines the clarity of the diatonic accordion sound, the balance of the pizzicato on the Jazz bass and the refined sound of the classical guitar that, with the violin and piano, transform the reading of the original musical text into a chamber music sound, with intense exploration. of the timbral range, textures and contrasts. This Quintet seeks, on the one hand, to delve into the style of Astor Piazzolla's "tango nuevo" with its accentuation, expressiveness, intensity and character and, on the other hand, the simplicity and clear definition of the phrases in communication, raised by the natural transparency of the instruments that play.