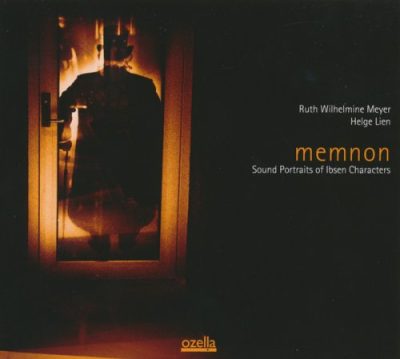 Artist: Ruth Wilhelmine Meyer & Helge Lien
Album: Memnon: Sound Portraits of Ibsen Characters
Label: Ozella
Year Of Release: 2012
Format: FLAC (tracks)
Tracklist:
01. Hedvig (The Wild Duck) (4:08)
02. Ellida (The Lady from the Sea) (5:23)
03. Hedda (Hedda Gabler) (4:47)
04. Memnon I (Peer Gynt) (3:05)
05. Anitra (Peer Gynt) (2:26)
06. Peer and the Mountain King (Peer Gynt) (6:25)
07. Ase (Peer Gynt) (4:37)
08. Memnon II (Peer Gynt) (1:23)
09. Nora (A Doll's House) (5:32)
The creative process can take many forms. There is a common notion in music about the genius composer who carefully fashions his verses in total isolation, correcting and adjusting until the work is ready to be presented by performing musicians.
On the diametrically opposite end, jazz in particular has been an advocate of improvisation as a governing principle, which in its final consequence, namely free jazz, creates a collective music that arises in the moment and can never be repeated. Repetition can only occur by playing a recording, leading to the somewhat paradoxical fact that the improvising performers are credited as composers.
Needless to say, a wealth of variations exists between these extremes. One such variant, rooted in contemporary music, is precisely what the two dedicated Norwegian musicians behind Memnon have devised.
Singer Ruth Wilhelmine Meyer and pianist Helge Lien have here harvested some of the best aspects of each of these "adverse methods." The basis for their approach is improvisation as a dialogical process, an exploration of Ibsen's archetypal, but very much alive female characters, as well as the dynamic relationships between the various dramatis personæ in Peer Gynt. Meyer and Lien have chosen to give themselves the twofold challenge of creating soundscapes of mental states and processes, while at the same time allowing the music to convey its own intrinsic and independent qualities. Meticulously, through repeated improvisatory processes, the two musicians have pared away all "spurious" notes and effects, and attempted to maintain the core attributes and essence of the music.
Lien plays mainly on the piano keyboard, contemplatively as well as expressively, but he also uses the instrument's internal and external surfaces. Meyer characteristically refrains from using words in lending expression to Ibsen's characters, taking more of a sensuous, rather than an analytic approach to the musical process.
Naturally, the work refuses to let itself be pinned down to a score from beginning to end, but consists of pre-planned sequences in open form. Composed, in other words, but at the same time preserving its flexibility and situational variability during live performance.
Biographical particularities about the two composing artists may shed some light on the background for the collaboration on Memnon.
Bjarne Søltoft