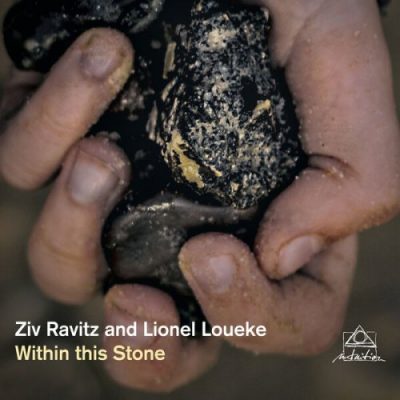 Artist: Ziv Ravitz & Lionel Loueke
Album: Within This Stone
Label: Intuition
Year Of Release: 2022
Format: FLAC (tracks)
Tracklist:
1. Chant (9:14)
2. Shadows on the Wall (7:33)
3. Peire Aussane (7:35)
4. Malika (5:06)
5. In 2 It (4:02)
6. Lullaby for Emma (5:05)
7. Aziza's Dance (5:05)
8. Vi Gnin (5:42)
The arrangement of the instruments and technical equipment alone was unusual when the two much-discussed soloists Lionel Loueke (guitar, vocals) and Ziv Ravitz (drums) performed together in a club in the Swiss community of Muri on 12 December 2021. The drummer's seat was only a few meters away from the guitarist's chair at eye level, so to speak, to give the two musicians the best possible view of each other. The visual celebration of the dialogue on stage came about for a good reason: This was the first time since the outbreak of the Covid-19 pandemic that direct encounters in front of an audience were possible again. Accordingly, Loueke, who is often described as a 'musical painter' by his mentor Herbie Hancock, and Ravitz, 'the pace-setter of the young Israeli jazz scene', went all out as if it were a matter of repairing the hole in their improvisers' souls that the pandemic with all it's prohibitions had torn. One moment unhurried and contemplative, yet the next moment using the orchestration possibilities of their three sound sources – drum kit, 7-string guitar and voice – to their maximum expressiveness, the duo threw every fiber of their being into the service of free music that evening. Luckily, a tape machine was running, capturing eight tracks for the now released 'Within This Stone' album, the first live recording of the dynamic two. No matter which one of the two sets the pace – Ravitz on the cymbals and tom-toms, or Loueke on the guitar and loop pedal -, the respective counterpart expands the metric track harmonically and creates images full of musical subtleties.