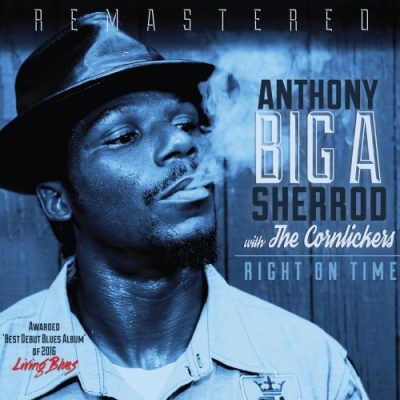 Artist: Anthony Big A Sherrod with The Cornlickers
Album: Right on Time
Label: Nola Blue Records
Year Of Release: 2016
Format: FLAC (tracks)
Tracklist:
01. Rumblin' Stumblin'
02. Find Me Another Women
03. Right on Time Baby
04. Cold Feeling
05. Shuffle in Big a
06. Get Your Money
07. Tried and Tried
08. Train
09. Someday
10. Talk to Your Daughter
Young bluesman from Clarksdale, Mississippi. Anthony Sherrod & The Cornlickers are the official house band of Red's – 'the most famous juke joint in the world'.
Anthony "Big A" Sherrod is a young Mississippi bluesman, schooled by a noted blues teacher in the area, "Mr. Johnnie" Billington, who taught not only the music but the value of hard work and knowledge of the culture and history from which Mississippi blues emerged, a world where the musicians worked at very hard, low-paying agricultural jobs.
Guitar is Big A's main instrument, though he plays bass, drums, and keyboards as well. Big A and his band were regulars at Sarah's Kitchen, one of the area's major blues venues until proprietor Sarah Moore was killed in an auto crash, and the restaurant went out of business. He has played at numerous other clubs and events in the Delta area.
Recordings of Big A are few; he appears on bass with Alvin "Youngblood" Hart and the late, great drummer Sam Carr on a song called "Joe Friday" in the 2003 film "Last Of The Mississippi Jukes." Alvin Youngblood Hart notes in his intro that Sherrod has been playing blues in the area from a very young age. Sherrod is also featured in the 2012 film "We Juke Up In Here," now as the band leader. He offers a spirited performance of a song called "Call Me A Lover" in the best tradition of male boasting (along with a bit of humor), and he also wrote and plays the title track for the film. Big A is an exciting performer who freely moves around a performance space with some fancy footwork.