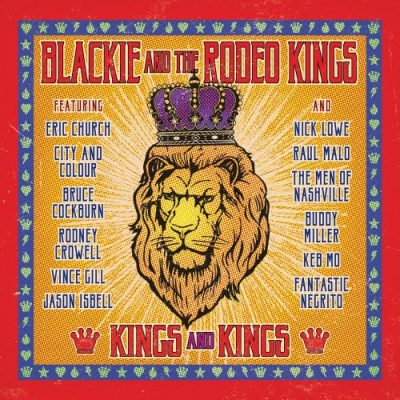 Artist: Blackie and The Rodeo Kings
Album: Kings And Kings
Label: File Under: Music
Year Of Release: 2017
Format: FLAC (tracks)
Tracklist:
01. Live By The Song
02. Bury My Heart
03. Beautiful Scars
04. Highwire
05. Playing By Heart
06. Bitter And Low
07. Secret Of A Long Lasting Love
08. A Woman Gets More Beautiful
09. Land Of The Living (Hamilton Ontario 2016)
10. Long Walk To Freedom
11. This Lonesome Feeling
12. Where The River Rolls
As promised Blackie and The Rodeo Kings deliver the companion to their 2011 collaboration album King And Queens. While Kings And Queens featured guest appearances from some of the band's favourite female singers, this album, titled Kings And Kings features some of the band's best "guy" friends from the world of roots, blues and country. Each one of them an accomplished KING in their realm of creative endeavours and in many cases absolute king legends in the entertainment industry.
The album kicks off with the "Live By The Song", which is simply the autobiography of Blackie and the Rodeo Kings. A rarity in the fact that it was written by all three-principal members, Colin Linden, Tom Wilson, and Stephen Fearing, "Live By The Song" is really the biography of every working musician/songwriter committed to the 'life'. Perfectly featuring the voice of Grammy Award winner Rodney Crowell and Fearing on the lead vocal, the song conjures the winding path of uncertainty faced by all the players who really had no other choice but to follow it.
Is there really more of songwriter's songwriter than the incomparable Nick Lowe? Lowe brings elegance to "Secret of A Long Lasting Love" taking the lead throughout the song.
The spirit of the late Roy Orbison can be detected in the gorgeous rendition of Fearing's "High Wire" featuring the impeccable voice of Raul Malo (The Mavericks).
"A Woman Gets More Beautiful" situates long time friends and collaborators Linden and Bruce Cockburn. Linden produced a number of Cockburn's albums. On this track the pair philosophize on the appreciation of timeless beauty, slipping from English to French to English. Cockburn's masterful guitar interplay is abundant.
On every Blackie and The Rodeo Kings album there is a song penned by their namesake, the late great Willie P. Bennett. "This Lonesome Feeling" is a classic cowboy lament. Multi Grammy award winner and Country Music Hall of Fame legend Vince Gill takes it to the Mountain with his contribution.
"Long Walk To Freedom" is Fearing with the iconic Kevin Moore (aka Keb Mo), long time friend and collaborator of Linden's.