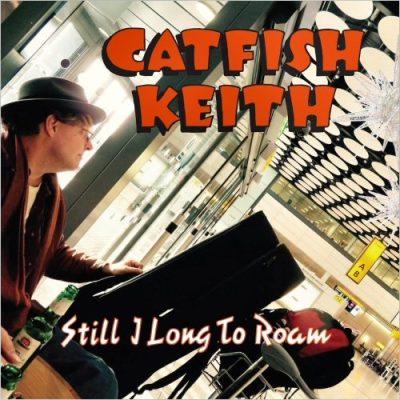 Artist: Catfish Keith
Album: Still I Long To Roam
Year Of Release: 2022
Format: FLAC (tracks)
Tracklist:
1. I'm A Wanderer (4:44)
2. Stomp That Thing (3:18)
3. I'm A Good Man (3:58)
4. Daddy & Home (5:41)
5. He'll Understand (6:17)
6. When The War Was On (4:14)
7. Louis Collins (3:39)
8. Bye Bye Pretty Baby Baby Bye Bye (4:08)
9. Cherry Red (2:30)
10. Sewing Machine (5:41)
11. Go To The Mardi Gras (7:09)
12. Cool Drink Of Water (4:42)
13. Bed Spring Poker (3:09)
Still I Long To Roam is Catfish Keith's new album, his 21st album in a long and acclaimed career. He's still winning awards – in 2022, he's won the Blues Blast Music Awards for Best Acoustic Blues Album (for Land Of The Sky) and Best Acoustic Guitar. He still deserves to win them.
Catfish Keith has a unique style of acoustic blues playing. He has recorded solo on this album – a recording approach which is as simple as using different guitars across the album (the sleeve tells you what they are) and stomping his feet in percussive support; simultaneously, this is a recording approach as sophisticated as anything you'll ever hear one man alone playing.
There are a couple of new Catfish originals on the album, 'I'm a Wanderer, Fare Thee Well' and 'Cherry Red'. The remainder are versions of classics from the likes of Sister Rosetta Tharpe, Jimmie Rodgers, Blind Willie Johnson et al. I was delighted to see – to hear, to be more precise – the album includes 'Louis Collins' the strikingly melodic Mississippi John Hurt song which, many years ago, was among my introductions to Blues music and is still a favourite.
'Cherry Red', 'Bed Spring Poker' (what a title; actually, what a lyric), 'Stomp That Thing', and 'Go To The Mardi Gras' would also be good openers to give a flavour of the album.
But what strikes me most of all is that Catfish Keith has been playing for nearly fifty years, recorded his first album nearly forty years ago and it's easy to forget how consistently good are his playing, his singing, his interpretations of classic blues. Consistent quality is notoriously difficult to achieve in general; in the arts it's like finding a phoenix riding a unicorn, which is why his website pages open with "He has reinvented the guitar with great power and artistry and brings a rare beauty and vitality to his music."
Still I long to Roam is Catfish Keith doing what Catfish Keith does – on his 21st album. You can find out for yourself how good that is as he's on tour in the UK until the end of November, details on his website.
Mike Wistow