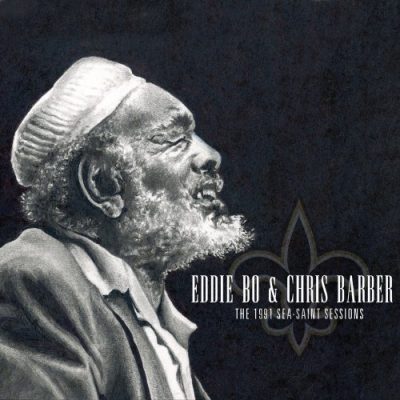 Artist: Eddie Bo & Chris Barber
Album: The 1991 Sea-Saint Sessions
Label: The Last Music Company
Year Of Release: 2017
Format: FLAC (tracks)
Tracklist:
01. Wake Up (Radio Edit)
02. I've Got a Story
03. Tell It Like It Is
04. She Gay San
05. Careless Love
06. Every Dog Has Its Day
07. You Are so Beautiful
08. Check Your Bucket
09. Wake Up
Edwin Joseph Bocage known as Eddie Bo was born in New Orleans on September 20th 1930. A singer and pianist schooled in jazz, he was best known for his blues, soul and funk output as a performer, arranger, composer and record producer in the city. Eddie worked with over forty different record labels in his time and incredibly, released more singles than anyone else from New Orleans except Fats Domino.
He worked with Big Joe Turner, Earl King, Guitar Slim, Johnny Adams, Lloyd Price, Ruth Brown, Smiley Lewis, The Platters and more. It was while Chris Barber was playing with Dr John for a month in New Orleans during 1991 that a friend suggested that Chris should rent Marshall Sehorn and Allen Toussaint's "Sea-Saint" studio for a couple of days to cut Eddie Bo with some of New Orleans' finest on the session.
Eddie jumped at the opportunity and rounded up some top guns, starting with Bobby Bland's long-time guitar player Wayne Bennett. Born in 1931, Wayne had also played with an impressive bunch including, Buddy Guy, John Lee Hooker, Elmore James, Cannonball Adderley, Sonny Stitt, Dexter Gordon, Jackie Wilson, The Chi-Lites and many more.
Eddie had wanted electric bass and tuba over the two days and so in came Charles "Chuck" Moore and Walter Payton. An associate of the Neville Brothers and Allen Toussaint, Chuck had played electric bass on recordings with Guitar Slim Jnr., Rockin' Dopsie, Marva Wright, Sugar Pie DeSanto, Zigaboo Modeliste and others. Walter, a stalwart of the Preservation Hall Jazz Band and Young Tuxedo Brass Band had also participated in the many classic New Orleans recordings including Lee Dorsey's "Working In A Coal Mine", Aaron Neville's Tell It Like It Is" and Robert Parker's "Barefootin'". On the second day, Chuck got called to another session and but Walter stepped in and surprised everyone by playing bass guitar style on his string bass to great effect.
Then Eddie got the hottest drummer in town. Russell Batiste Jr., was just 26 years old on this session. He had joined the Funky Meters a couple of years earlier when they were reincarnated following the breakup of The Meters and was on fire over this two-day session.
New Orleans local "Alto Red" Morgan played Alto Sax and Chris Barber played Trombone. According to Chris they had no rehearsal and just made up their parts on the spot.
"The tapes remained in Chris' archive until 2015 when he sent me a CD listening copy. The instantly infectious, pre-Katrina New Orleans funk exploded out of my speakers, transporting me to Crescent City for the best part of an hour and rendering me oblivious to the phone and occasional tentative taps on my office door. Now it's your turn to step into the time machine." Malcolm Mills. Chairman. Proper Music Group Ltd. 2016
Eddie died in 2009, a sorely underappreciated veteran of the New Orleans R&B scene. Irma Thomas, Dr. John, Allen Toussaint were among those performing at his memorial.