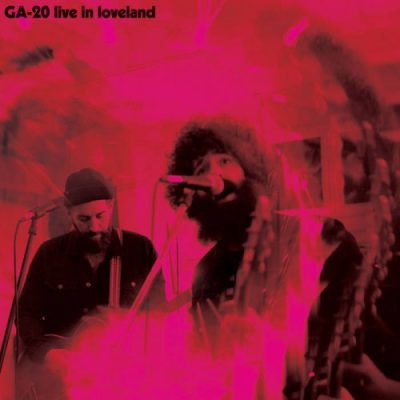 Artist: GA-20
Album: Live In Loveland
Genre: Blues Rock
Label: Colemine Records
Year Of Release: 2023
Format: FLAC (tracks)
Tracklist:
1. I Cry For You (2:12)
2. My Baby's Sweeter (4:11)
3. Lonely Soul (1:49)
4. I Let Someone In (3:07)
5. Dry Run (3:39)
6. Double Gettin' (2:15)
7. My Soul (3:13)
8. Just Because (2:17)
9. Hold It One More Time (2:15)
10. Crackin' Up (3:43)
11. By My Lonesome (2:33)
As the momentum continues to build for old-school blues rock trio GA-20, the band takes their expanding fanbase by storm with the release of its first full-length live LP, Live In Loveland. Featuring 11 rowdy, blistering performances (including five songs from 2022's Crackdown, three from their 2019 debut Lonely Soul and three previously unrecorded tracks), Live In Loveland captures GA-20 feeding off the energy of the wall-to-wall crowd and delivering each song with raw emotion and body-shaking force.
Live In Loveland mixes band originals and vintage covers, from early electric blues and honky-tonk country to proto rock 'n' roll, all performed live with deep feeling and punk energy. The album was recorded direct-to-tape on a vintage Tascam 388 at Plaid Room Records in Loveland, Ohio, home of the famous Colemine record label. Produced by Stubbs and engineered by Colemine owner Terry Cole, the band blasts out of the gate playing Harold Burrages' I Cry For You, before tearing into Little Walter's obscure gem My Baby's Sweeter. The previously unrecorded original Hold It One More Time proves to be an instant classic, sitting seamlessly next to the vintage covers on the album.
According to guitarist Matthew Stubbs (whose resume includes playing with blues legends Charlie Musselwhite and James Cotton, among others), "There is a special type of energy that is exchanged when we play in front of a live audience, and we definitely feed off of that and wanted to capture that. I love the power and energy of the best live blues albums. Historically, some of the most iconic blues and jazz records have been live ones. B.B. King's Live At The Regal changed my life. So did Hound Dog Taylor's Beware Of The Dog!, and Albert King's Live Wire/Blues Power. We really wanted to continue that tradition and do one of our own."
Since they first hit the scene in 2018, GA-20 have quickly become the trailblazers of the nascent traditional blues revival. It's a movement GA-20 kicked into gear with their debut album Lonely Soul on Colemine/Karma Chief Records. Two more full length releases – including 2022's critically and popularly acclaimed Crackdown – and years of nonstop national and international touring has firmly cemented the band as one of the blues' most significant young acts, bursting at the seams with talent. In December 2022 and January 2023 respectively, legendary magazines Vintage Guitar and Guitar Player selected GA-20 for cover features. They also appear on the cover of the December/January issue of the UK's famed Blues Matters! magazine.
GA-20, according to Rolling Stone, are "a pure marvel and delight" who play "100% blues." The UK's Guardian says, "GA-20 keeps things simple and fierce…scything, growling riffs, driving grooves, blistering boogies and defiant vocals." Living Blues magazine declares, "GA-20's loose, raw, high-energy approach to the blues [is] guaranteed to get anyone with a pulse on to the dance floor. Riotously happy house rockers…they deliver sweaty, raucous grooves all night long."
But it's not just the critics talking, as the band receives regular radio airplay from coast to coast and all around the world, from SiriusXM's Bluesville to the BBC. Most importantly, the fanbase continues to swell, anxiously awaiting the band's next move. Amazingly, GA-20's full-length albums – 2022's groundbreaking Crackdown, 2021's tribute album GA-20 Does Hound Dog Taylor: Try It…You Might Like It!, and the 2019 EP LIVE: Vol. 1 – debuted at the #1 position on the Billboard Blues Chart. 2019's Lonely Soul debuted at the #2 position.
According to Stubbs, "GA-20 is a band meant to be heard live, and we are most in our element in front of an audience." Now, with Live In Loveland, the band is thrilled to document the power and passion of their live performances. "We love making records but performing live is even more important to us. Playing live as much as we do, we're finding more and more that people are discovering how cool it all is."