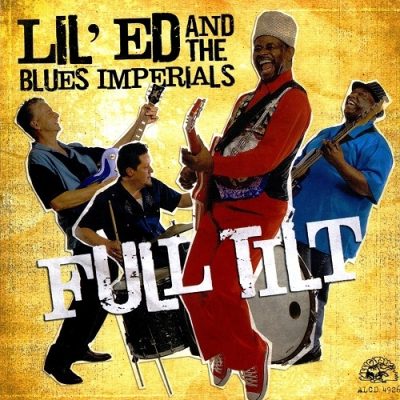 Artist: Lil' Ed & The Blues Imperials
Album: Full Tilt
Label: Alligator Records
Year Of Release: 2008
Format: FLAC (tracks+.cue)
Tracklist:
01. Hold That Train (4:00)
02. Housekeeping Job (3:50)
03. Don t Call Me (3:08)
04. Check My Baby s Oil (5:35)
05. First I look At The Purse (3:25)
06. Love Don't Live Here Anymore (3:56)
07. Life Got In The Way (7:05)
08. Candy Sweet (2:10)
09. Woman, Take A Bow (4:03)
10. My Baby Moves Me (4:10)
11. Dying To Live (5:40)
12. Open Invitation (2:59)
13. Every Man Needs A Good Woman (5:48)
14. Take Five (3:19)
Slide guitarist Lil' Ed Williams & the Blues Imperials bring the energy of live performance to their seventh Alligator release, Full Tilt. The highlights on this disc tend to reflect that of the album's title, especially the spirited cover versions of the Contours' "First I Look at the Purse" and Hound Dog Taylor's "Take Five," along with the originals "Hold That Train," "Candy Sweet," and "My Baby Moves Me." Lil' Ed's raucous guitar chops are at center stage on those tracks and the additional backing from horn players Eddie McKinley and David Basinger and pianist/organist Johnny Iguana add some extra kick. There are a few lukewarm tracks that are a bit too rote and, unfortunately, bring down the overall good-time party appeal of this disc. Still, fans of Lil' Ed & the Blues Imperials, or electric modern blues in general, will want to add this to their collections.