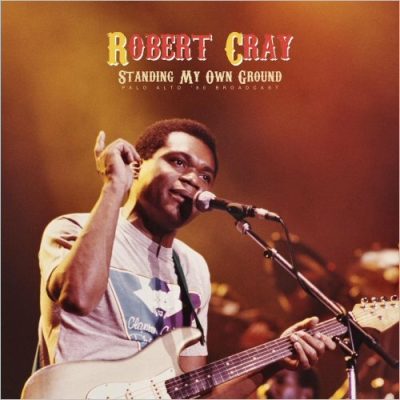 Artist: Robert Cray
Album: Standing My Own Ground (Live 1980)
Label: Night Parade
Year Of Release: 2022
Format: FLAC (tracks)
Tracklist:
1. Cold Women (4:21)
2. Band Intros/If You're Thinkin' (3:54)
3. Wrapped Up In Love (2:51)
4. Your Friends (6:48)
5. Mohair Sam (3:22)
6. From The Bottom (2:58)
7. I'm Tired Of Your Jive (5:17)
8. Blind, Crippled And Crazy (4:11)
9. Can't Hold Back The Tears (3:39)
10. I Don't Want No Wife (4:11)
11. Too Many Cooks (2:47)
12. Hands Off That Woman (3:17)
13. I've Got Everything I Need (3:53)
14. Instrumental (4:54)
15. Move On Back Darlin' (3:34)
16. Doin' Every Barbecue (4:55)
Born in Columbus, GA, in 1953, blues guitarist/vocalist Robert Cray has–along with Albert Collins and Stevie Ray Vaughan–been credited with helping to create the blues "renaissance" of the 1980s. He began his music career in 1979 and has won three Grammy awards, with his 1986 album "Strong Persuader" selling over one million copies.
Cray's father was a career military man, so although Cray was born in Columbus, GA, he was raised in areas as varied as Virginia, California and Germany due to his father's various postings over the years, but the family finally settled in Tacoma, WA, in 1968. He had begun to study piano while his family was living in Germany, and was musically influenced by such artists as Ray Charles and Sam Cooke. He became a fan of The Beatles and eventually switched his choice of instruments from piano to guitar (a lucky meeting with actor John Belushi resulted in Cray's getting a part in the film National Lampoon's Animal House (1978) as a member of the band Otis Day and the Knights). Cray eventually formed his own band and in 1978 signed a contract with Tomato Records, coming out the next year with the album "Who's Been Talkin'?". Tomato didn't release it until 1980 and it didn't sell well, so Cray switched to Hightone Records and in 1983 released the well-received album "Bad Influence" His next album, "False Accusations", didn't break any sales records–although it was favorably reviewed by music critics–but in 1985 he released his breakthrough album, "Showdown!", which he recorded with Albert Collins and Johnny Copeland. It garnered him a Grammy and sold a quarter-million copies. The next year he went over to Mercury Records, where he released what many believe to be his best album, "Strong Persuader", which got him his second Grammy.
Cray embarked on a worldwide tour, playing in the US, Canada, Europe and Asia. He appeared in the rock documentary Chuck Berry Hail! Hail! Rock 'n' Roll (1987) and in 1989 released his album "Don't Be Afraid of the Dark", another million-seller that resulted in his third Grammy. His follow-up album, "Midnight Stroll", saw him move away from the blues somewhat and get more into soul and R&B, but it didn't alienate his blues fans. In 1991 he appeared in a concert at the Royal Albert Hall in London, England, with Eric Clapton, Buddy Guy, Albert Collins, Jimmy Vaughan and pianist Johnny Johnson and later that year released his double album, "24 Nights", which contained his performances at the Royal Albert Hall.