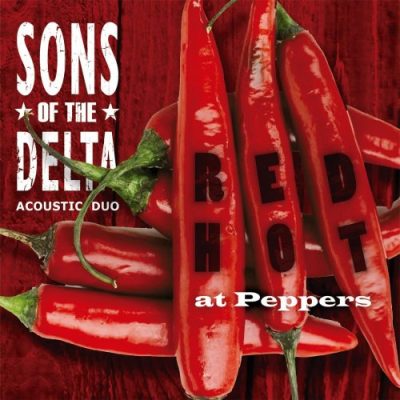 Artist: Sons Of The Delta
Album: Red Hot at Peppers
Label: Rawtone Records
Year Of Release: 2016
Format: FLAC (tracks)
Tracklist:
01. Smokestack Lightning (Live)
02. Hardcore Troubadour (Live)
03. Key to the Highway (Live)
04. Lipstick Sunset (Live)
05. Chocolate Jesus (Live)
06. Boogie Chillun (Live)
07. Tom Ames Prayer (Live)
08. One Sunny Day (Live)
09. The Weight (Live)
10. Thirteen Question Method (Live)
11. Skinnybone (Live)
12. Out On A Saturday Night (Live)
A stripped-back acoustic duo set recorded at Peppers Cafe as part of the Gloucester Rhythm and Blues Festival 2015. A passionate, fun and energetic performance of some of Mark and Rick's favourite songs from their repertoire.
Sons of the Delta was formed by two of the top bluesmen in the SouthWest UK, Mark Cole and Rick Edwards. They play a no-nonsense blend of electric and acoustic blues which includes traditional blues plus new originals. Their music also features occasional sidesteps into other American roots styles such as gospel, hillbilly, bluegrass, cajun and texmex.
Achievements include a visit to Clarksdale, Mississippi where they played at a number of clubs and juke joints including Morgan Freeman's club Ground Zero. The visit also included time in Jimbo Mathus's recording studio, Delta Recording, where they were joined by Eric 'Bassfingers' Lanier and Jeff Hayes plus legendary bluesmen Sam Carr and Pinetop Perkins to record their second CD, 'Made In Mississippi'.
In 2006 they returned to the USA and played on the prestigious Emerging Artist stage at the Arkansas Blues and Heritage Festival in Helena, Arkansas, and since then they have returned numerous times to play at festivals, most notably the Juke Joint Festival at Clarksdale, MS, in 2011 and 2014.
They have just released their third CD, Tasty Nuggets, which features several special guests including Canadian blues guitarist Mike Myers from the Myers Brothers Blues Band. Keep an eye on the Press page for the latest reviews of the album.