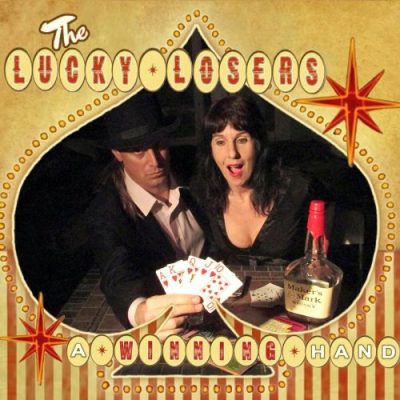 Artist: The Lucky Losers
Album: A Winning Hand
Year Of Release: 2015
Format: FLAC (tracks)
Tracklist:
01. Change in the Weather
02. I Take What I Want
03. What Have I Done
04. A Winning Hand
05. Suicide By Love
06. What Was It You Wanted
07. What Is Success
08. Long Hard Road
09. Baby You Got What It Takes
10. Cry No More
11. Detroit City Man
12. Don't You Lose It
Male/Female blues and roots duets!. A vocally rich, harp infused, eclectic album with highly personalized covers of rare classics plus originals.
Cathy Lemons and Phil Berkowitz, as the Lucky Losers, take a modern approach to classic blues and R&B songs and combine compelling originals with rarely recorded covers. The outstanding "A Winning Hand," produced by Kid Andersen, includes guest artists such as Steve Freund, 2015 International Blues Challenge Best Guitarist winner Ben Rice, and Andersen himself. Far from a simple case of two solo acts teaming up for a combined effort, "A Winning Hand" is a 'duets' album in the truest sense, with a give and take that allows each artist to draw out the best in the other. As Cathy pushes toward earthiness and grit, Phil pulls toward sophistication and tradition, creating a mild tension that keeps the listener focused on the ongoing dialogue between the two. The gentle back-and-forth brings the storyline of each song to the forefront.
The album's wide range of influences include Chicago and Texas blues, Stax/Volt-styled soul, blues rock, jazz, and New Orleans funk. Of its twelve tracks, half are originals: three by Cathy, and three by Phil and collaborator Danny Caron. The remaining six are a mix of older blues and roots songs ranging from Allen Toussaint's incisive "What Is Success" to Jimmy Rogers' meat-and-potatoes "What Have I Done" and even a funk-laced jaunt through the late period Dylan masterpiece "What Was It You Wanted."
CATHY LEMONS is a blues-singing legend who has performed regularly in the Bay Area for 25 years. She has been described as "the finest light-skinned female blues vocalist in the U.S." (Real Blues, 2010) with "a velvety and hypnotic voice resonant of a female Howlin' Wolf" (Fulltimeblues, 2010). Hailing from Dallas, Cathy honed her chops with Anson Funderburgh, performed with Stevie Ray Vaughan, and has worked with some of the greatest names in blues, including John Lee Hooker, Tommy Castro, and Ron Thompson." " Her 2014 release "Black Crow" on Vizztone was a Downbeat magazine "Winners' Pick."
PHIL BERKOWITZ is a charismatic San Francisco-based harmonica player and vocalist who has brought his unique, energetic music to audiences for more than 17 years. He has mastered many different types of blues, a fact that's exemplified by his diverse repertoire. Phil's last two CDs, "Louis' Blues" and "All Night Party," were met with critical praise. He has toured, performed, and recorded with a variety of top blues and jazz musicians such as Danny Caron (Charles Brown's musical director), Duke Robillard, Sean Carney, and Billy Branch.