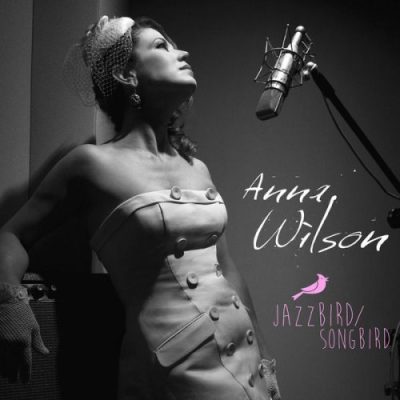 Artist: Anna Wilson
Album: Jazzbird / Songbird
Label: Transfer Records
Year Of Release: 2014
Format: FLAC (tracks)
Tracklist:
01. Little Jazzbird
02. Champagne
03. Show Me Love
04. On a Summer's Day
05. The Shadow of Your Smile
06. Inconsolably Blue
07. Polaroid
08. How Do You Measure a Life?
09. While the Music's Still in Me
10. Songbird
Among the many recent jazz-vocalist recordings I've heard, jazz singer/songwriter Anna Wilson's new album stands out for its mingling of classic jazz sensibility with skillful songwriting. Its title, Jazzbird/Songbird, in addition to naming the Gershwin and Fleetwood Mac songs that bookend the 10-song set, accurately reflects Wilson's musical identity on this disk and the nature of her art.
In a velvety, breathy voice both girlish and sophisticated, Wilson lives the songs, standards and originals alike, more like a cabaret singer than a cooler-than-thou jazz cat. The way she slides up to the second syllable of the word "champagne" in the song by that title, one of the six originals on the disc, is a small thing of beauty. "On a Summer's Day," another original, is a little bit Billy Joel and a little bit Marvin Hamlisch (the melody echoes the latter's "What I Did For Love" in jazzier style). And Wilson's understated take on the standard "The Shadow of Your Smile" demonstrates her way of putting her own interpretive stamp on a good melody without bending it all out of shape.
The original, vintage-style ballad "Inconsolably Blue," a gem of accessible pop-jazz songwriting, forms the centerpiece of the album. "While the Music's Still In Me," Wilson's declaration of the preeminence of music in her life, sounds like sophisticated 1970s pop in a jazz setting. It leads into a slim, airy, tasteful version of one of that era's loveliest songs, Christine McVie's "Songbird" from Fleetwood Mac's legendary Rumours album. Wilson sings the hit fairly straight, proving, as if this needed further proof, that a great song remains a great song in any era.