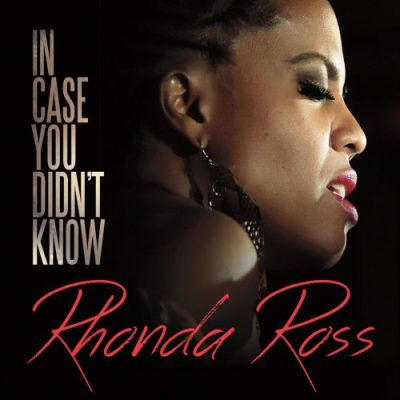 Artist: Rhonda Ross
Album: In Case You Didn't Know
Year Of Release: 2016
Format: FLAC (tracks)
Tracklist:
1 In Case You Didn't Know 5:11
2 All I Want 2:55
3 Summer Day (Prelude) 1:05
4 Summer Day 3:56
5 Breathe 5:53
6 Here Right Now 6:45
7 Drumbeat Of Life 5:27
8 Evermore 4:45
9 Run On 4:22
10 From Now On 5:42
11 Nobody's Business 5:08
12 It Don't Matter 4:03
13 You're My Song 3:37
14 Run On 5:00
Singer-songwriter, Rhonda Ross, is an international Social-Artist, who explores questions of race, gender, sexuality and spirituality through her art. Her original music lives in the gap between jazz, funk and gospel while her lyrics delve into life's biggest questions and answers. From racism, sexism and homophobia to the need for self-love and spirituality, Rhonda uses her music to examine the society in which she lives and through all of it, asks "In the midst of THIS, how can I still be free?" She has great power on stage and her refreshingly personal and moving performances set her apart from other vocalists of her era. Rhonda's music flows straight from her essence and her bright spirit uplifts everyone in the room. With a crown of natural hair, Rhonda graces the stage with the gravitas and glamour of a modern-day queen. As the only child of Diana Ross and Motown Founder Berry Gordy, it has become evident that Rhonda not only has the talent, but the significance to carry on her parents' legacy, all the while establishing her own unique musical destination.
Rhonda's music is based in traditional jazz, but pulls from the entire African diaspora. In 1994, she met, married, and began a 20-year musical collaboration with jazz pianist and composer Rodney Kendrick. Through him, Rhonda commenced studying with the late jazz great Abbey Lincoln. "It was Abbey and Rodney who convinced me to begin my journey as a singer-songwriter." Rhonda says, "I primarily consider myself a story-teller and poet. I use my music to inspire and to uplift. To teach people – including myself." Their live CD, Rhonda Ross Live: Featuring Rodney Kendrick is a hot internet seller.
Now a mother to a young son, Rhonda's music has taken on the more mature stance of a woman "with the understanding and wisdom of a 40 yr old, but the passion and dream-seeking of a 20 yr old!" And what a combination it is! Rhonda is one of the rare artists today using her music to examine the society she lives in – from racism to sexism to homophobia to the need for self-love and spirituality, Rhonda's songs look through all of it and ask "In the midst of THIS, how can I still live the best life possible? New songs have emerged. Songs like: "Nobody's Business" – a groovy, bass-led reminder that "your joy comes from the inside and that it's nobody else's job to make you happy", and "Summer Day" – an upbeat realization that even after the harshest winter, the sun will re-emerge and "the buds of hope can still bloom". "Through Rhonda's individual and creative expression, the legendary Ross influence continues to live on and expand.
Rhonda headlined one of President Obama's 2nd Inaugural Balls, and later performed to standing ovations and rave reviews at The Hollywood Bowl, The Montreal International Jazz Festival, Wolf Trap, and The Theater at Madison Square Garden. Rhonda's live performance will thoroughly entertain you and move you to the point of tears – all while inspiring you to believe that you can do or be anything!