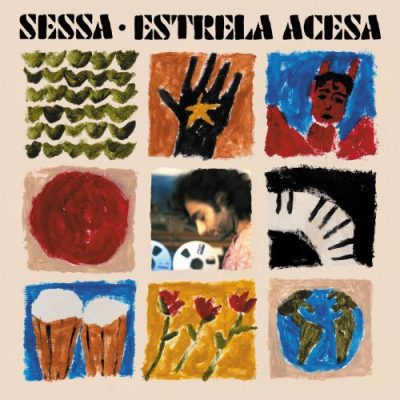 Artist: Sessa
Album: Estrela Acesa
Label: Mexican Summer
Year Of Release: 2022
Format: FLAC (tracks)
Tracklist:
01. Gostar do Mundo (2:21)
02. Canção da Cura (2:35)
03. Sereia Sentimental (3:11)
04. Música (2:40)
05. Helena (4:06)
06. Pele da Esfera (2:48)
07. Dor Fodida (4:40)
08. Irmão de Nuvem (3:18)
09. Que Lado Você Dorme? (4:07)
10. Ponta de Faca (2:54)
11. Você É a Música (1:31)
12. Estrela Acesa (4:19)
Sergio Sayeg's unhurried nylon string guitar and softly danceable rhythms put a smooth, minimalist flourish on the vibrant musical heritage of Brazil.
Sessa's terminally chill music sounds like he's been lounging on the beach or just smoked a joint before entering the studio. Yet on his second album, Estrela Acesa (Burning Star), the São Paulo-born artist moves past the honeymoon phase of his 2019 debut to express both passion and pain. Paying tribute to the music of Brazil in the classic styles of Caetano Veloso or Antônio Carlos Jobim, Sessa augments his nylon string guitar, softly danceable rhythms, and airy vocal harmonies with understated orchestral arrangements. There aren't many contemporary artists replicating the sounds of tropicália, bossa nova, or MPB as immaculately as Sessa does, but he favors minimalist flourishes over the madcap approach of a band like Os Mutantes. Singing in Portuguese, Sessa's unhurried voice hovers in space like his hero Leonard Cohen.
Sergio Sayeg (aka Sessa) grew up in São Paulo's isolated Sephardic Jewish community, beginning his musical education in the synagogue. In high school, he joined the band Garotas Suecas (Swedish Girls) before his father's work brought the family to New York City. Throughout the mid-2010s, Sessa joined Israeli rocker Yonatan Gat on bass, while spending his days working at the East Village record shop Tropicália in Furs. It was here that he immersed himself in the vibrant musical heritage of Brazil, as his debut album Grandeza gradually came together. Over six or seven different recording sessions between Yonatan Gat's globe-trotting tours, Sessa gathered whoever was available to join him in the studio with only the briefest of rehearsals.
In comparison to the patchwork of Sessa's first album, Estrela Acesa is silky smooth. Its 12 short songs were primarily recorded on the island of Ilhabela, off the coast of São Paulo, where percussionist and co-producer Biel Basile set up a studio early in the pandemic. The album's orchestral arrangements by Belarusian composer Alex Chumak flash back to the subtle psychedelic sound of Arthur Verocai's 1972 debut. This is perhaps most evident on Estrela Acesa's melancholy instrumental, "Helena," with shivering strings, timpani swells, and wordless vocals swirling around a gently strummed guitar. As the song drifts towards its conclusion, it feels like watching ocean waves lapping onto the sand.
The mood is so copacetic that, without a working knowledge of Portuguese or access to the translated lyrics, it's almost impossible to know what Sessa is singing about. On the breakup song "Que Lado Você Dorme?" ("On What Side Do You Sleep?"), he intones "I love you, I hate you, and everything in between" without a trace of emotion. "Dor Fodida" ("Fucking Pain") similarly bottles its feelings with pissed-off lyrics about commonplace struggles delivered softly and sweetly. "Pele da Esfera" ("Skin Sphere") settles into a winding groove like the dance party it describes, though Sessa's words sound more romantically direct on the page than they do coming out of his mouth.
"Canção da Cura" ("Song of Healing") is a breakup song as well, with a bubbling pace that matches its lyrics about "consuming" a loved one "to the sound of the drums." Sessa returns to the healing properties of sound on both "Música" and "Você É a Música" ("You Are Music"), explaining how songs fill the "head, flesh, heart." Many artists have explored this kind of meta-commentary (including Cohen), but Sessa might be the first to call music "the sluttiest country." On the closing title track, there is finally a small lilt in his voice as he shares a feeling of contentment ("One day without another without end/They say love's like that"). The languid sound of Estrela Acesa is certainly consistent, but it could use a few more moments of heart-on-sleeve emotion to make Sessa's euphoria stand out from his ache.