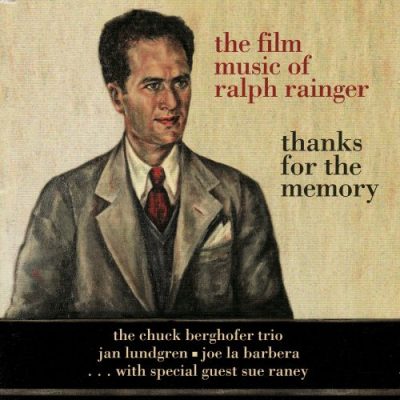 Artist: The Chuck Berghofer Trio
Album: Thanks For The Memory: The Film Music Of Ralph Rainger
Label: Fresh Sound Records
Year Of Release: 2008
Format: FLAC (tracks)
Tracklist:
01. Miss Brown to You
02. Easy Living
03. Sweet Is the Word for You
04. Please
05. Blue Hawaii
06. If I Should Lose You
07. Havin' Myself a Time
08. Faithful Forever
09. June in January
10. Moanin' Low
11. Here Lies Love
12. I Wished on the Moon
13. Love in Bloom
14. Thanks for the Memory
15. For These Memories…Thanks!
Following his tribute to film composer Bronislau Kaper, record producer Dick Bank has turned his attention to another great talent who's overdue for recognition. Ralph Rainger was a virtuoso pianist who enjoyed a fruitful collaboration with lyricist Leo Robin at Paramount Pictures in the 1930s. The result was a cavalcade of hit songs, many of which went on to become standards and also jazz perennials, including…
"Easy Living," "I Wished on the Moon" (lyric by Dorothy Parker), "If I Should Lose You," "Blue Hawaii," "Love in Bloom," "Please," and "Thanks for the Memory." (Rainger is less recognized as a pioneer in film scoring, as he often worked without credit in the early 1930s, when multiple composers would contribute to a movie's underscore.)
To interpret the selections, Bank called on three of the finest jazz players in Los Angeles: pianist Jan Lundgren, drummer Joe La Barbera, and the great bassist Chuck Berghofer, who has never served as a leader on a record date—until now. Appropriately enough, he states the melodic line on several of these tunes, giving them a fresh, lively approach. This is impeccably tasteful straight-ahead jazz.
In addition to the titles mentioned above, the disc includes "Moanin' Low," Rainger's first hit, with words by Howard Dietz, "Faithful Forever" from Max Fleischer's animated feature Gulliver's Travels, and many others.
A bonus track features Rainger in a rare, somewhat "canned" radio interview from 1937 that concludes with the composer playing a florid piano rendition of "Love in Bloom." Then he and Leo Robin perform the same song at a famous 1940 ASCAP concert that took place in San Francisco.
An accompanying booklet fills us in on Ralph Rainger's life and untimely death, and includes some publicity articles that appeared under his and Leo Robin's byline in the 1930s along with photos and sheet music covers. I can't think of a better tribute to an unsung figure from Hollywood's—and popular music's—golden age.