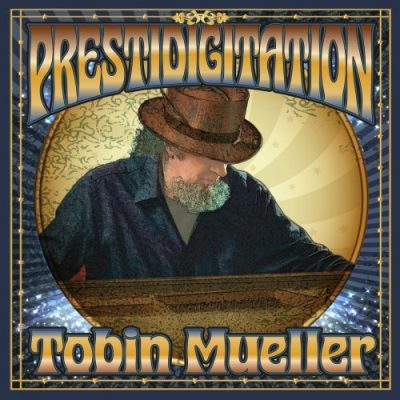 Artist: Tobin Mueller
Album: Prestidigitation
Year Of Release: 2022
Format: FLAC (tracks)
Tracklist:
1. Birdland / Long Distance Runaround (06:32)
2. What Is Hip (05:59)
3. Watermelon Man (05:20)
4. Thank You (Falettinme Be Mice Elf Agin) (05:07)
5. Contemporary Insanity (03:34)
6. Prestidigitation (06:38)
7. Sorceress (05:25)
8. King Kong (04:37)
9. Giant Steps (02:35)
10. Superstition (05:46)
11. America (My Country 'tis of Thee) (06:55)
Personnel:
Mikey Martel: trumpets
David Dejesus: flutes; alto, tenor, baritone saxes
Bill Barner: clarinets
Paul Nelson: electric guitar
Tobin Mueller: B3 organ, DX7 & Wurlitzer electric pianos, synths, Trilian acoustic bass
Isaiah Schmidt: drums
New arrangement of Frank Zappa's "King Kong", recorded for Tobin Mueller's jazz fusion album "Prestidigitation". Features Grammy-winning guitarist Paul Nelson, Nashville's Mikie Martel on trumpet, David Dejesus on sax & flute (director of NYC's Birdland Jazz Band).
Frank Zappa composed this instrumental for his 1967 album "Lumpy Gravy". The composition quickly became a concert & fan favorite. It went through at least 15 different versions on multiple Zappa releases. Many versions verge on chaos, incorporating wild solos, long improvisations.
The song is also infamous due to Zappa's dispute with John Lennon. Zappa brought the tune to a 1971 jam session at the Fillmore East. The Plastic Ono Band included it on Some Time In New York City but failed to mention it was Zappa's song. "I don't know whether it was Yoko's idea or John's, but they changed the name of the song to 'Jamrag,' gave themselves writing and publishing credit, and never paid me," Zappa remarked. "It was obviously not a jam session song: It's got a melody, it's got a bass line; it's obviously an organized song. Little bit disappointing."
Mueller's version is far more cinematic, almost orchestral. The 3/4-multiple meter is graceful yet lurching, reminding one of a giant moving gorilla. Isaiah Schmidt's jungle rhythms add to the illusion. The recording incorporates the largest ensemble on the album, in keeping with the larger-than-life title. Multiple flutes, a full sax section, full brass and multiple clarinets are supported by layered keyboards, acoustic bass & drums, not to mention a very Zappa-esque guitar part.
Solos by Mikey Martel and Paul Nelson are highlights. Martel's Miles-like trumpet solo (both takes used, making it a duet) is adroitly set up by Mueller's keys and Dejesus' alto sax. Nelson's untamed guitar takes over, shifting focus to the feral freedom of the deep wilderness. We are reminded of Kong at the height of his power, before his tragic end.
The tracks is also an excellent example of how Mueller reshapes a composition into something new, while somehow bringing out the essence of the original. There is something quintesssentially "Zappa" about this recording, while also being distinctly "Mueller".