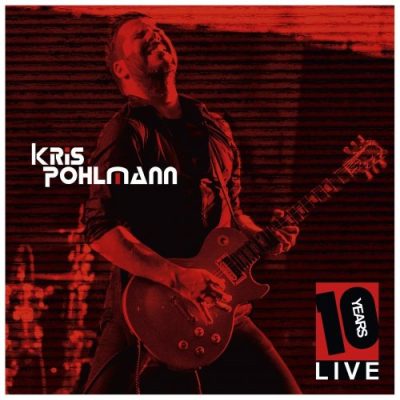 Artist: Kris Pohlmann
Album: 10 Years Live
Label: Black Penny Records
Year Of Release: 2016
Format: FLAC (tracks)
Tracklist:
01. Don't Make a Fool of Me (Live)
02. Borrowed Time (Live)
03. One Day Baby (Live)
04. Too Tired (Live)
05. Got to Be the Blues (Live)
06. Fallin' Down (Live)
07. Used to Be (Live)
08. Soulshaker (Live)
09. Come Together in the Morning (Live)
10. I'm Tore Down (Live)
11. (April) Spring, Summer & Wednesdays [Live]
12. Taylor Road (Live)
13. Reconsider Baby (Live)
14. One for Sorrow (Live)
Kris Pohlmann celebrates the anniversary of the first time that he stepped in front of an audience at club with the release of 10 Years Live. Stuffed full of his originals off his previous studio albums and a handful of covers we get a glimpse of what a Pohlmann show is like. It's full of gravely and gruff vocals and the anthemic classic guitar riffs with a touch of blues that he's known for.
The album is a power trio format with Janosch Brenneisen on drums and Jonas Bareiter on bass and backing vocals. Recorded partially during his European tour for Taylor Road a large part of it was done live in the studio in front of an audience. Kris' vocals are at the forefront and dominate the mix with his guitar a close second and the contributions of his rhythm section are almost lost in the mix.
As mentioned there is a diverse mix of tracks like the huge rock sound of "Used to Be" and the title track off the Taylor Road album along with the clearly SRV inspired "Fallin Down" off of his first album, New Resolution. What is most interesting though is the mix of cover tunes of artists that have influenced him. These include Johnny Guitar Watson's "Too Tired" with clear Gary More inflections, Free's "Come Together In The Morning," the Boogie Rock Blues of Status Quo's "(April) Spring, Summer & Wednesdays," and covers of classic blues songs like "I'm Tore Down" and "Reconsider Baby."
Kris sums this record up best with the following. "This album is a celebration of 10 years of hard work and dedication to the music that is very much part of who I am. It's a "thank you" to my fans who have enabled me to perform live for a decade."