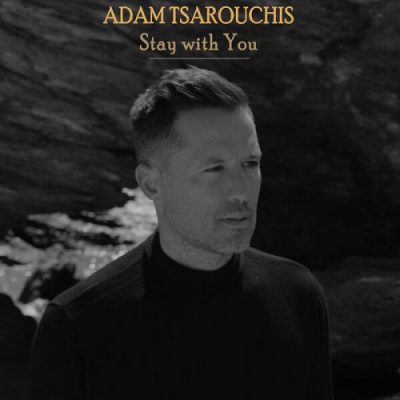 Artist: Adam Tsarouchis and Fivos Bozas
Album: Stay with You
Year Of Release: 2022
Format: FLAC (tracks)
Tracklist:
01. Stay With You
02. In Your Eyes
03. Walk
04. Wonderful Life
05. Just Walk Away (Teo Frz Zucca Remix)
06. Just Walk Away (Teo Frz Zucca Remix Dance)
Adam Tsarouhis presents us his first English-language album entitled "Stay With You"! This is one of the most pleasant surprises of the year for Greek-English music. Adam Tsarouhis, a few days after the presentation of his new album on the Gazarte rooftop and the release of his first English-language single "Stay With You", returns with the self-titled E.P. which is also his first work interpreted entirely in English!
Adam's songs are loved for his vintage mood that he channels so skillfully into his music! So imagine this vintage aesthetic now adapted to songs that could go around the world through all known streaming services… Nothing is impossible when you have the talent, strength, honesty in your work and a bright smile to show off. conquer them, like Adam!
Besides, Adam Tsarouchis has already boasted one of his creations to occupy high positions in the charts and outside the Greek borders! His cover of Celine Dion's classic "Just Walk Away", released during the 2021 lockdown, managed to reach number one on itunes in Austria (for about 10 weeks) and No.26 in Spain and Russia while it is expected to "adorn" the tracklist of a brand new collection entitled "Slow Down with Chillout, Vol. 2 (Hotel Tools & Health), which will be released worldwide on December 9!!
With this success as a trigger, the said E.P. and yes (!) here you will also find "Just Walk Away" in two brand new remixes by Teo Frz Zucca. One in latin rhythms and the other in a more danceable, drum 'n' bass pattern. In any case, we are talking about two remixes that will surely amaze once again and will once again highlight Adam's soulful arrangement with his close collaborator Phoebus Boza accompanying him on saxophone!
The E.P. opens with the title track, which was also its precursor, a soulful ballad that even the late George Michael could have performed. Its accompanying black-and-white music video possesses a corresponding allure capable of "pinning" many pairs of eyes to the screens! The sequel comes with "In Your Eyes" a carefree creation in a bossa nova rhythm, conjuring up images of exotic beaches and music with the power to touch the listener's deepest heartstrings! "Walk" is a song that celebrates Adam's vintage mood, recalling sounds of the 30's and 40's capable of taking you to a "new-retro" musical world. "Walk" creates an atmosphere of an unusual and at the same time "out of place and -mainly- time" character, which could be added to any festive playlist even to the much sought after musical works of Christoforos Papakaliatis (Christophore are you listening?) -Yes! is my personal highlight from the E.P. even if I never write in the first singular-. These three original songs from the E.P. highlight two more talented musicians. Phoivos Boza, whose name appears next to that of Adam Tsarouhis, interpretatively on all the tracks of the E.P. but also Panagiotis Charalambopoulos in their music writing!
And if you are looking for the "icing on the cake", Adam has another "ace up his sleeve". Black's classic "Wonderful Life" takes us back to 1987, bringing his redemptive lyrics "No need to run and hide, it's a wonderful, wonderful life" back to mind, providing the necessary cheer under the sounds of acoustic guitar!
"Stay With You" is the E.P. with which Adam Tsarouhis introduces himself to a wider audience. With strong feelings of soothing familiarity and nostalgia, we refer to a body of work that can undoubtedly charm any listener! Adam… welcome back!