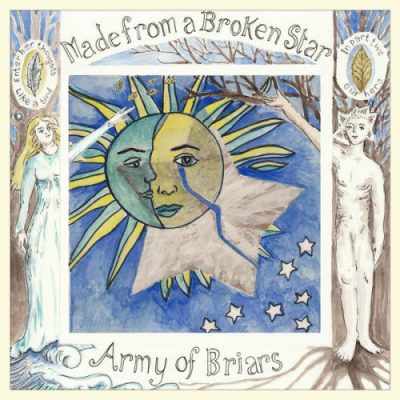 Artist: Army of Briars
Album: Made from a Broken Star
Label: Discus Music
Year Of Release: 2022
Format: FLAC (tracks)
Tracklist:
1. To William Blake (2:09)
2. Go Song (4:33)
3. Arbor Low (3:59)
4. The Green Man (4:39)
5. A Reforming Monster (1:48)
6. Made from a Broken Star (2:40)
7. Having Nothing (3:35)
8. Jack of All Trades (2:23)
9. The Nine Ladies (3:20)
10. Birdflight (1:58)
11. The Kindest Water (5:15)
12. This Is the Sum (3:07)
13. Think of a Time (3:48)
14. Flight Flower (3:58)
15. A Book Put Me Here (0:59)
16. In Part Two (4:02)
17. To William Blake (Reprise) (2:18)
Personnel:
Julie Cole: voice
Tim Cole: voice, guitars, cello on 3
Martin Archer: woodwind, keyboards, electronics
Keith Jafrate: words, voice on 15
With:
Paul Taylor: grand piano
Peter Sells: bass guitar
Martin Pyne: drums, percussion, vibraphone
string orchestra and quartet
Natalie Purton: violins and violas
Liz Hanks: cello
Progressive songwriting in the finest tradition, the material ranges from stark, ghostly chant across to gentle folk confessional, via one or two Ivor Cutler moments and some passionate jazz, and together amounts to a single story of magic, witness, praise and flight.
All of us will have been present when a live band suddenly fuses into a miraculous torrent. The great thing about Army of Briars is that they seem to be able to create that sense of live miracle while working separately in different locations, and sending their contributions to be mixed together at Discus Music Studio. This covid-enforced approach to 'Made From A Broken Star', has resulted in music that feels live, and a band that feels united. This is hugely down to the voices of Tim and Julie Cole, vulnerable, honest, warm, pure, and the series of beautiful and strange melodies that the group has created for them, making a cycle of ballads and spells.
Keith Jafrate's imagistic nature poems take the listener through multiple worlds, past, present, interior and exterior, all focused on a kind of radiant connectedness. The music inhabits them like wind in a great tree, sounding out their intricate forms. Despite the range of styles, the songs have a strong narrative cohesion, and the album is a cathartic journey through, and into, the landscape.