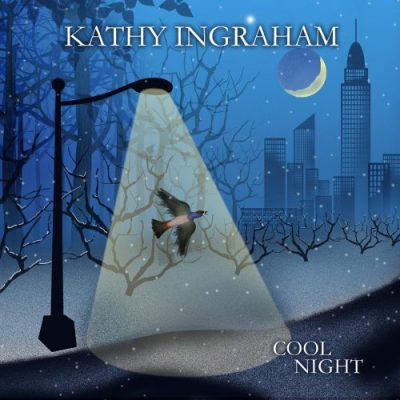 Artist: Kathy Ingraham
Album: Cool Night
Label: Peirdon Production Corporation
Year Of Release: 2017
Format: FLAC (tracks)
Tracklist:
01. Prelude to Your Kiss
02. Sail Away Tropea
03. Cool Night
04. Ceyx and Alcyone
05. Forgiveness
06. Drop of Rain
07. Ordinary Life
08. Dannemora Love Song
09. Without Words
10. Three Kings of Cool
It is a compilation of her original jazz tunes born from an innate jazz sensibility infused at times with raw emotion on the fringe of rock. Kathy Ingraham is a singer, composer and producer. This album features 10 of her latest original compositions. Musicians on the album are Pete Levin on keyboard, (Gil Evans, Miles Davis, Gerry Mulligan, Paul Simon, Rachelle Farelle, Annie Lennox Carly Simon, Jaco Pastorius ) Will Lee on bass, (Letterman Band, David Sanborn, Patti Austin, Joe Beck, Gato Barbieri , George Benson, Deodato, Laura Nyro, Frank Sinatra, Barbara Streisand) Bob Telson on Keyboard (Academy Award nomination for his song "Calling You" from the movie Bagdad Café,[2] as well as Pulitzer,[3] Grammy and Tony Award nominations for his Broadway musicals "The Gospel at Colonus") Rick Palley on Bass ( Buster Poindexter, Garrison Keillor) Joel Rosenblatt on drums, (Spyro Gyra, Bill Evans) John Tropea on guitar, (Paul Simon, Laura Nyro, Eric Clapton) and Clifford Carter on piano. (James Taylor, Herbie Mann, Idina Menzel) Kathy has a host of angels singing backup. Lisa Lowell (Bruce Springsteen, Sheryl Crow, Stevie Wonder) Diane Garisto (Carley Simon, Steeley Dan,Billy Joel, Laura Nyro and Paul Simon.) Elise Morris (Joe Jackson) Julie Eigenberg (Grammy Award Lyricist, The Brecker Brothers). Meredith Manna,(Veteran NYC session singer.Al Kooper, Markley Band fusion project, The Reverend Billy Gospel Choir and Lalo Shiffrin's "Fire & Ice" album) and Lily Del Rosso.(Joan of Arc and Les Miserables).